DRY ICE BLASTERS
Are you looking for a powerful dry ice blaster, versatile, economical both to purchase and use?
Discover Cryoblaster's dry ice blasting machines Cryoblaster®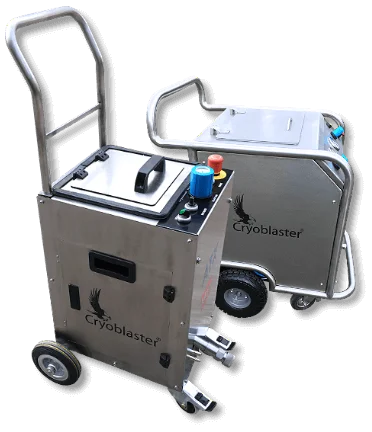 BLASTER – PNEUMATIC – TWO HOSES SYSTEM
Small dry ice blaster CB01
The CB01 model is very economical in dry ice consumption, compressed air, on purchase, perfectly suited to small dry ice cleaning jobs: car engine, dust removal from electrical cabinets….
BLASTER – ELECTROPNEUMATIC – TWO HOSES SYSTEM
Mini dry ice blaster CB02
Here is the new CB02 model, specially developed for cleaning very delicate surfaces thanks to its mechanized dry ice crushing system.
BLASTERS – ELECTROPNEUMATIC – SINGLE HOSE
Precision dry ice blaster: ATX Nano
Are you looking for a precision cleaning tool, non-abrasive, fast, and very efficient, for small and medium surfaces? For cleaning electrical cabinets, molds in plastics and/or foundry… THE ATX Nano is for you!
Electro-pneumatic dry ice blaster: ATX25-E
The ATX25-E is a powerful electro-pneumatic cryogenic cleaner that allows all dry ice-projecting clean-up operations to be carried out; regular, punctual, or intensive cleaning on small, medium and large areas.
BLASTER – 100% PNEUMATIC – SINGLE HOSE
100% Pneumatic dry ice cleaning machine: ATX25
The ATX25 is a 100% pneumatic dry ice cleaner capable of very aggressiveness on the most stubborn pollution, thanks to its supply of compressed air, optimized in 1 inch in diameter. pollutions
Delta Broadcast
Head office
Rue Du Bonnard
38290 Frontonas (France)
Showroom
Rue Des Muguets
Parking Carrefour Market
Mall
38070 Saint Quentin Fallavier
Ovh
2 Kellermann Street
BP 80157
CEDEX ROUBAIX 1
Tel. OVH: '33 8 99 70 17 61
Tel: 0033 (0)981 37 76 93
Website: www.cryoblaster.com
Email:
contact [arobase] cryoblaster.fr