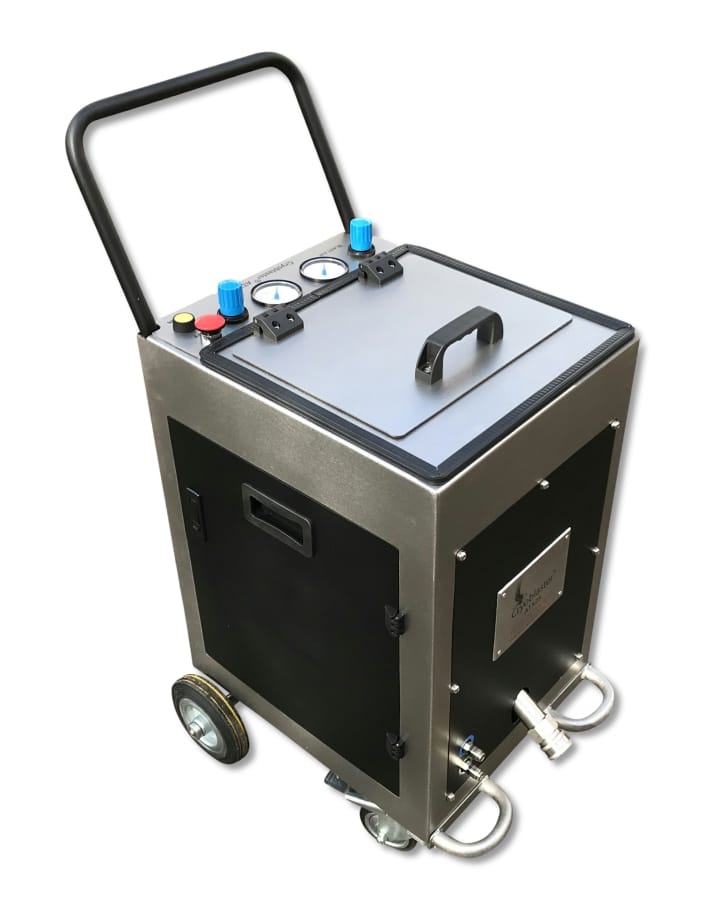 ATX25-P: 100% pneumatic dry ice blaster
The ATX25-P is a 100% pneumatic dry ice blaster capable of being very aggressive on the most stubborn pollutions, thanks to its 1-inch optimized compressed air supply.
Equipped as standard with a pressure controller, this device can also gently clean delicate surfaces: electrical cabinets, sensors…
Robust, lightweight (only 67 kg), the ATX25-P is also equipped with an anti-static blasting hose like the entire Cryoblaster®'s range.
Its maintenance is easy: just add pneumatic oil every 20 hours of use. The pneumatic organs are protected from corrosion thanks to a micronic filter with an automatic trap.
ATX25-P: also available in electro-pneumatic version, click here: ATX25-E
Features
The ATX25-P is a 100% pneumatic dry ice blaster equipment; therefore, there is no need for electrical connection.
Lightweight and compact, the ATX25-P is suitable for industrial cleaning work for preventive and medium cleaning treatments, on small, medium and large surfaces.
Thanks to its standard pressure controller, you can choose to work on fragile and delicate surfaces: electrical cabinets, automotive fabrics…
This cleaner can remove high thicknesses of dirt: burnt fats, varnish, carbon, organic and synthetic residues, paint, glue, silicon carbide, oil, ink, mold, anti-fooling paint…
Its pneumatic operation requires a compressed air intake of at least 6 m3/min, at 6 bars for reclamation work.
The ATX25-P is suitable for:
Industrial maintenance services (preventive and curative cleaning)

The foundry sector,

Agri-food (preventive cleaning and curative processes)

Service providers,

Monuments restorers

Nuclear sector,

Shipbuilding sector
Examples of use:
Cleaning electrical cabinet,

Preventive cleaning and industrial fix,

Cleaning car engines,

Cleaning plastic moulds and foundries,

Cleaning hydraulic group,


Cleaning industry manufacturing anode carbon,

Cleaning furnace metallization,


Cleaning and stripping bitumen

Empty oven cleaning

Cleaning chains conveyor: agri-food, metallurgy…

Degreasing the surfaces,

Etc…
Technical data
Work pressures: 3 to 15 bar
Ice consumption: 0 to 65 kg/h
Pressure regulator: serial
Regulator Ice Rate: in series
Tank capacity: 15 kg
Anti-static blasting hose*: 5 m, 3/4″,
Frame/tank: stainless steel 304,
Engine: 100% pneumatic
Electrical power: –
Power supply: –
Warranty: 24 months
Dimensions and weights
Dimensions: Long 410 / larg 400 / Top 1100 mm
Weight:

67 kg (75 kg with gun and hose)
*: Anti-static and anti-abrasion hose, specially designed and proven for dry ice cleaning
Accessories
Pressure regulator,

Ice consumption regulator,

Micronic filter,

Anti-whiplash necklace,

Side panel on hinges,

Stainless handles: front body stockings

Front swivel wheels with brake,

Gun with 360-degree rotary connection,

1X Nozzle: B105


Anti-static/anti-abrasion blasting hose 5 meters,

Compressed air connector type "cat head" fitting

304 stainless steel tank: 15 kg – pneumatic vibrator,

Instruction manual,

Video training
Recommended options
Crusher nozzle

Flat Nozzle BPL27
Bitumen pickling on furnace door | Metal processing | 0 min 53 s
Thanks to its 100% pneumatic operation, the ATX25-P is 20% lighter than electro pneumatic equipment thanks to high-quality European components (Festo).

The choice of its equipment, its stainless-steel chassis, offers it great robustness and many years of service.
Low consumption of dry ice.
Maintenance: Fill the tank with pneumatic oil (about 200 ml) every 20 hours of use.
Ideal for ATEX zone interventions
Cleaning processing and food production equipment:
Cleaning assembly lines,including welding robots and other equipment

Production equipment – Automotive parts

Gravity aluminium smelter moulds
Paint booths
Ventilation systems

Aluminium smelter moulds by injection

Meat processing plants

Rubber and plastics moulds

Rubber polymerization equipment

OFFSET rotary cleaning
Bottling industry
Electronics industry
Pharmaceuticalindustry

Packaging equipment

Mold cleaning
Post-fire cleaning
Historic restoration:monument – stripping hardwood

Car cleaning (engine and chassis)

Graffiti removal – Cleaning asphalt and concrete on TP gear

Cleaning wine barrels

Cleaning electrical cabinets and power and power generation equipment, including transformers, substations, wind turbines and generators off
Stripping anti-fouling paint on boat hulls

Etc…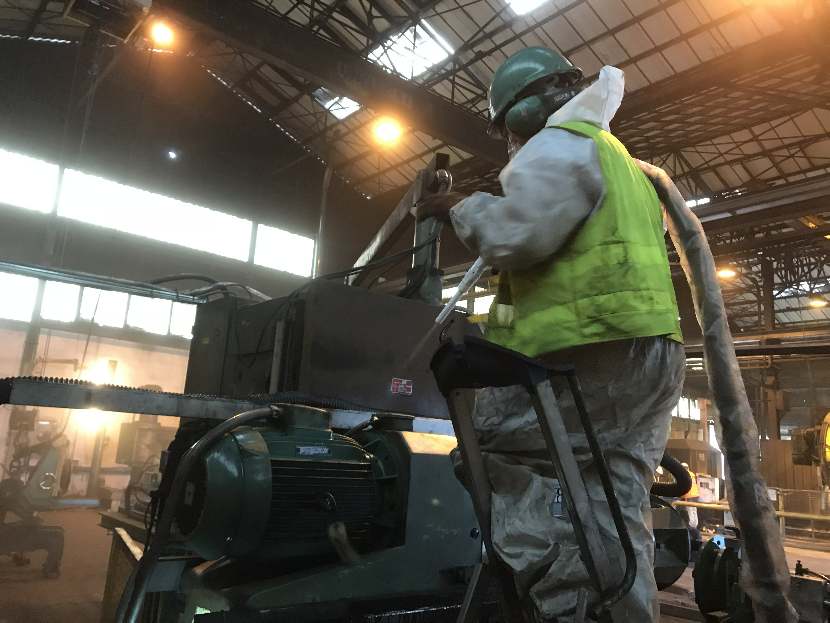 Cryogenic cleaning degreasing operation with ATX25…
Gun on 360-degree rotary connection
Nozzle B105 – Alu – 12.5 mm
Delta Diffusion
Head office
Rue Du Bonnard
38290 Frontonas (France)
Showroom
Rue Des Muguets
Parking Carrefour Market
Mall
38070 Saint Quentin Fallavier
Ovh
2 Rue Kellermann
BP 80157
CEDEX ROUBAIX 1
Phone :+ 33 8 99 70 17 61
Tel: +33 4 81 61 02 75
Website: www.cryoblaster.com
Email:
contact [arobase] cryoblaster.fr